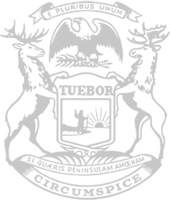 Rep. Kahle is joined by Bill Sprow, a Huntington's disease awareness advocate from Adrian, at the Capitol on Tuesday.
House approves Kahle measure to raise awareness for Huntington's disease
The Michigan House today approved a measure introduced by state Rep. Bronna Kahle, chair of the House Health Policy Committee, to declare May as Huntington's Disease Awareness Month.
Huntington's disease is a fatal genetic disorder affecting people between age 30 and 50 that causes the progressive breakdown of nerve cells in the brain, leading to the deterioration of an individual's physical and mental abilities. The disease slowly diminishes a person's ability to walk, think, speak and reason.
The Huntington's Disease Society of America estimates there are approximately 41,000 symptomatic Americans and more than 200,000 are at risk of inheriting the faulty gene that causes the disease. It is known as the "family disease" because every child of a parent with Huntington's disease has a 50% chance of carrying the faulty gene and developing the disease.
Researchers identified the gene that causes Huntington's disease in 1993 and have continued to develop treatments in the hope of ultimately finding a cure. While medications can alleviate some of the symptoms, no treatment is available to alter the course of the disease.
"Huntington's disease has a devastating impact on individuals and entire families, and it's greatly affected people right here in my own community," said Kahle, of Adrian. "Continuing to work together to raise awareness and support in our fight against Huntington's is critical and that's why I'm honored to present this important resolution.
"I am grateful for the opportunity to listen and learn directly from families and individuals who are grappling with this rare genetic disorder. Huntington's is like getting Parkinson's, Alzheimer's, and ALS all rolled into one, with no known cure. Finding a way to stave the wave of Huntington's starts with increasing awareness."
Lack of knowledge about Huntington's disease has been known to keep friends and neighbors from offering social and emotional support to the family, fostering unnecessary isolation. Kahle believes there is a need for greater public awareness of Huntington's disease and more activity at the national, state and local levels to support affected individuals as well as their families and caregivers.
Several members of Huntington's Disease Society of America (HDSA) came to Lansing to meet with Kahle to share the challenges of people living with the disease. She also invited Bill Sprow, a Huntington's disease awareness advocate from Adrian, to be her guest in the House of Representative's gallery while the resolution was adopted with bi-partisan support.
"It is very important people understand Huntington's disease so they can support efforts to find a cure," said Sprow.
The measure is House Resolution 92.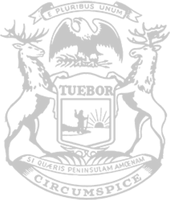 © 2009 - 2021 Michigan House Republicans. All Rights Reserved.
This site is protected by reCAPTCHA and the Google Privacy Policy and Terms of Service apply.